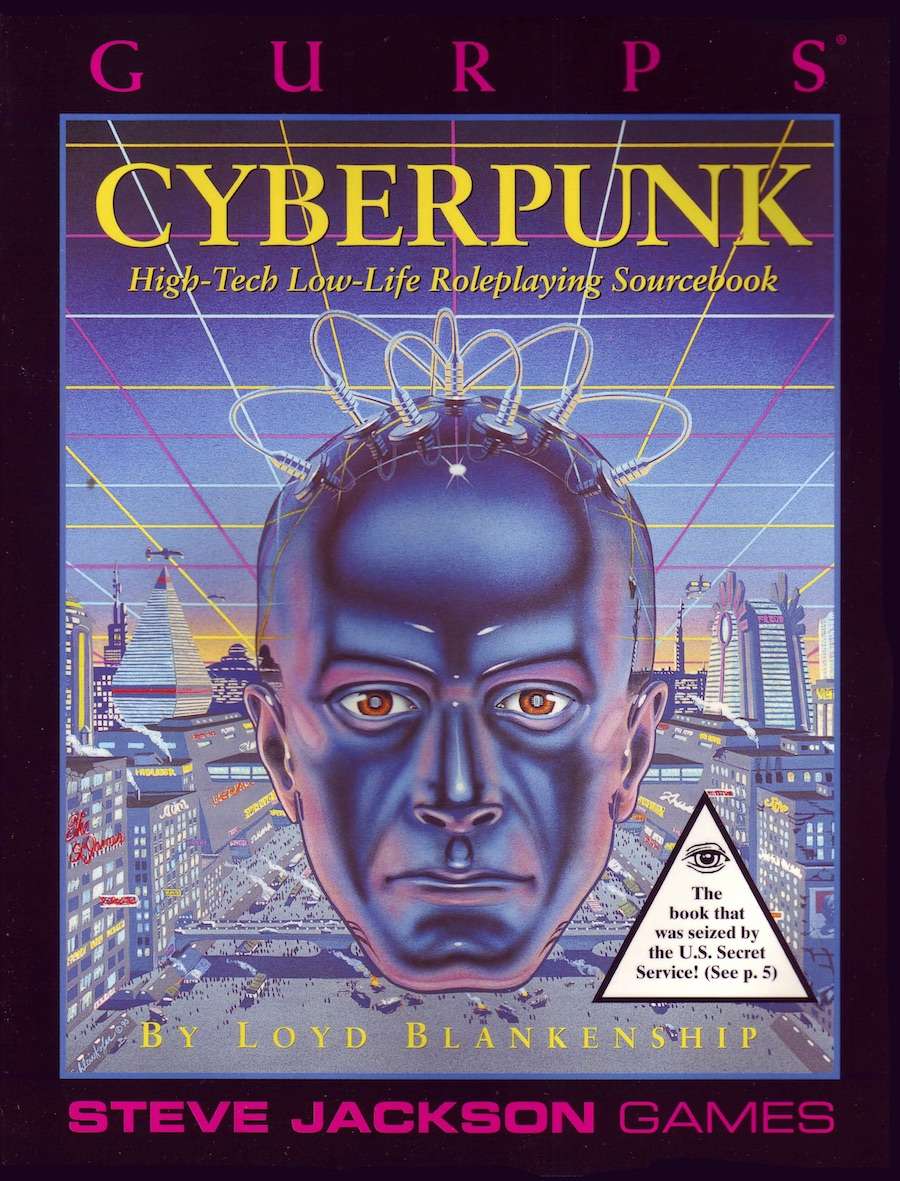 The Age of Cyberpunk
A personal perspective from an enthusiast
Posted May, 2021
Overview
A long, long time ago, long before "futurist" was a job title, back when "disruptor" was a label for school kids behaving badly rather than the war-cry of the techno-elite, when information still flowed at the speed of the spoken word, and only diseases went viral, before the "information superhighway" was a glimmer of foresightful, the United States Secret Service raided a role-playing game company that had wandered into the electronic frontier. While most of us spend our day's farming video clips and social networks in walled gardens, some still hear the whispers of that frontier beaconing today. But back then, the frontier was just being opened by the first home computers, and a few souls had started to imagine where it was taking us. One of the memes that emerged was "cyberpunk".
At it's root, cyberpunk is a sub-field of hard science-fiction literature where the world-building focused on how technology transitions (particularly what we call today 'the internet', but also virtual reality, biotech, and environmentalism) change society, often with a tragic/dystopian consequences. The archetypal cyberpunk setting was a gritty urban landscape where the line between man and machine had begun to blur. The name itself invoked the fusion of Norbert Weiner's science of mechanization, "cybernetics", with the vigorous anti-establishment ethos of urban punk-rock music. This is reflected in the visuals of films "Blade runner" (1982, built on Philp K. Dick's 'Do Androids Dream of Electric Sheep?'), "Robocop" (1987), "Akira" (1988), "Total recall" (1990), and "Ghost in the Shell" (1995). But the literature of the cyberpunk genre was more diverse. The manifesto of this "movement" was written by Bruce Sterling in the preface to the short-story anthology Mirror Shades (1988). There, he describes it as a descendant of anti-nuclear "New Wave Sci-Fi" from the 1960-70s (J.G Ballard, Ursula Le Guin, Philip Jose Farmer, …). Beyond the "Cyberpunk – 2077" iconography, some stories have fantasy and time-travel elements, and some of the settings are more optimistic than pessimistic.
While cyberpunk continues on as a genre, the authors of it's golden age made unique contributions to hard sci-fi. Their world-building speculatively envisioned the future in the near term (30-50 years out), close enough that we can now actually see how well the authors did. In hindsight, we might say the works of this period accomplishments three things:
They envisioned how future society would be reshaped by looming technological revolutions. Usually this was digital (great line in "When Gravity Falls" where the main character says 'Computers are as common as washing machines these days.') but it can be related to genetic engineering, nanotech, drugs, or reshaping the mind (i.e. Vacuum Flowers, Diamond Age, etc. This is, in my mind, the greatest accomplishment of this genre. It is so staggeringly hard to guess the multi-dimensional implications of something like a computer or the internet. Our reality still defied these authors but there are plenty of moments when I was stunned by how close they came to describing some aspect of actual life in the 21st century.

They took a crack at what a post-Cold War world might look like. Some older sci-fi feels to me like it presumed that the cold war would just last forever or somehow just be "solved," probably because the author wanted to get to the cool stuff in space (looking at you Arthur C. Clarke). Most cyberpunk books presume that history moved to another stage. The various scenarios included all-out war, the collapse of both sides and rise of a third power, a mutual peace that transformed both countries, or the replacement of states by corporations and cities. A cool corollary to this was the rising influence of non-Western powers, usually Japan. That kind of feels flat now given how Japan fizzled in the 1990s, but the idea of a rising Asia is pretty spot on. Either way, it is both bold and accurate to presume that history wouldn't just stay static for decade after decade.

They accurately predicted that the future would be defined by haves and have nots. This is the "punk" in cyber-punk. The perspective of these stories is often from an outsider who is using technology for their own purposes and feels very influence by the hacker ethos of the 1980s. This theme is such a huge part of our daily lives now that it's easy to overlook how smart it would be to predict in the 1980s or 1990s that the world was headed towards something like a new Gilded Age rather than something more equitable.
Reviews
Here are my takes on the major/minor works:
Stand on Zanzibar (John Brunner, 1968): So early that it's still technically New Wave but holy shit. The guy doesn't just call that the factories in Detroit close, he predicts that they will then be used for gigantic techno rave concerts WHICH ACTUALLY WHAT HAPPENED. A young Barack Obama plays the book's main African-American character. Not an easy read, but gets so many things right or almost right that the author might be a time traveler. The godfather of the c-punk genre.

Do Androids Dream of Electric Sheep? (Philip K. Dick, 1968) Like Zanzibar, a fore-bearer of c-punk with un-expected influence beyond it's literary impact.

True Names (Vernor Vinge, 1981): Really blew me away because it was written so early yet envisions an interactive virtual world that is very familiar. I mean, the guy's virtual world is a fantasy setting because its modelled on early text computer games like Adventure, which was literally the first fucking text computer game and the only frame of reference anyone could have at the time. Lots of things that are now cliche, like the uncertainty of someone's online identity, hackers saving the world, and the risk of too much interconnectivity make it in here. Not sure why it doesn't get more credit or attention than it does, maybe because its novella length.

Neuromancer (William Gibson, 1984), Count Zero (William Gibson, 1986): So William Gibson is a shitty writer. He just is and somehow he gets away with it (but see this opinion also). But I concede that sometimes its because what he envisions is too advanced for me to process. Neuromancer is case in point. I found it confusing and didn't enjoy it the first time I read it in high school. Now I read it and understand literally everything that's happening because so much of what he describes is modern. Between the two, Count Zero is more fun because it has "classic" c-punk elements like a corporate assassin, a hungry net runner, and decent amounts of combat but both clearly defined the genre. I also submit that Gibson's world isn't actually that terribly dystopian (they aren't STARVING, there is no WORLD DICTATORSHIP, I mean c'mon). The third part of the sprawl trilogy (Mona Lisa Overdrive) is decent but the ending sucks. Its almost impossible to understand what happened and even Gibson admitted that in an interview.

Frontera (Lewis Shiner, 1984): It's about a mission to Mars that happens after Earth basically collapses in some kind of famine/global war and corporations take over. It's kind of like Interstellar the RPG setting we're currently playing in. Not everything holds together but I really liked the idea of humanity still trying to go into space while the rest of the planet was screwed up. Felt like a cool subversion of regular sci-fi.

Hardwired (Walter Jon Williams, 1986): Awesome setting. A decadent oligarchic elite rules Earth from space (smashing rebellious cities with asteroids) and plunders it like a colony. Everybody left behind on "the dirt" is just struggling to get by. The pure hard-edged net-runner/cyber jet fighter pilot/smuggler/street op cyberpunk vision that you see in roleplaying games. The experience reading this reminded me of being in high school. Read it in just a few weeks.

Mirrorshades (Bruce Sterling [editor], 1986): Decent collection of stories. Mozart in Mirrorshades is by far the best. Probably most interesting because of Sterling's intro on what cyberpunk is about. Other stories are honestly just meh. Somehow this genre does better with novels, I think.

When Gravity Fails (George Alec Effinger, 1987): After the US and Soviet Union collapse, the Arab world experiences a renaissance that turns it into a genetic engineering super power. Not really that believable in the wake of the Arab Spring meltdown but this one gets credit for having the "street op"-est of all street ops as the main character. The protagonist is an Arab street hustler who literally is either high on drugs, coming down from drugs, or blacked out and not a reliable narrator because of drugs. I also appreciated the book's use of Arabic, though the future Middle East the book depicted seemed totally alien to me.

Eclipse/A Song Called Youth (John Shirley, 1988): Kind of a bonkers overkill book, it is World War III between the Soviet Union and a NATO that is captured by a Black Water mercenary army/Christian Fundamentalist conspiracy. The protagonists are a combination of French Underground and propagandists who are trying to keep democratic civilization alive. Notable for the prominent role of drones and memetic warfare/disinformation, which obviously feels very contemporary. Not the best written in the series and its hard to believe the good guys win, but still fun.

Islands in the Net (Bruce Sterling, 1988): My favorite. A seemingly utopian world of benign corporatocracies that are slowly being subverted by digital pirates and criminal gangs that GASP are harvesting people's PII en masse to use for their own nefarious purposes like GASP getting an edge in negotiations. Actually, this one makes you realize that we honestly might be living in the STNG Mirror Universe because Bruce Sterling's future frankly looks pretty good right now. Also, the best and most multi-dimensional main character in the entire genre. She undergoes real, meaningful transformation in the story.

Synners (Pat Cadigan, 1991): A very very good crack at what the future media environment will look like. Its a world where everyone gets whatever continuous media and entertainment they want and the newest stuff is piped directly into your head like a hallucination. Takes a few hundred pages before character/world building is settled but the Grand Crisis is pretty excellent.

Snowcrash (Neal Stephenson, 1992): Another great one, particularly for his gonzo vision of a fragmented America. It's supposed to be over the top but a recent Foreign Affairs article by Francis Fukayama on democratic erosion actually quoted a paragraph in this book to describe the current state of social atomization/dysfunction in our country. I'm sure villains like an Aleutian Island nationalist who wanted to destroy the US for "crimes" against his people and a Robert Murdoch-like media magnate who wanted to spread memes like a virus to allow him to mind-control the world seemed insane in 1992 but I'm nodding along right now. Would be a mistake for HBO to make this into a mini-series, we're already there.

Trouble and Her Friends (Melissa Scott, 1994): A truly awesome vision of what the Net actually would be like. Written in the early 1990s, this is a story about stolen cyber identity and a group of hackers who attempt to avenge crimes done in one of their names. Almost half of the book takes place actually in cyberspace and is far less hand-wavy than other c-punk novels. A lot of cool stuff like hackers turned corporate security, US vs. European cyber rules, and the commodification of the web.

Moxyland (Lauren Beukes, 2008) Loved this one. It's very very late but the author's story about an activist, artist, and computer hacker in dystopian South Africa is hugely entertaining. She also nails iphones, though in her world, the police can activate a feature in them which stuns and incapacitates the user.
Skipped
Blood Music: Didn't get past first few pages. Poor writing and mad scientists aren't that interesting to me.
Metrophage: Bailed after reading 1/3rd of it. Just too much happening. There are aliens and a plague and a military government and gang warfare. A protagonist who is a gangster and a deserter and a poet and an ex-cop. Its just incoherent.
Vacuum Flowers: Confusing opening. Couldn't stay motivated to keep going.
Shismatrix Plus: Lost interest after the first chapter, too slow.
Wetware: Kind of a comic and silly edge. I don't do comedy.
The Shockwave Rider: Too slow and felt like a weaker version of Stand on Zanzibar.